Beef, Spinach and Ricotta Pancake Recipe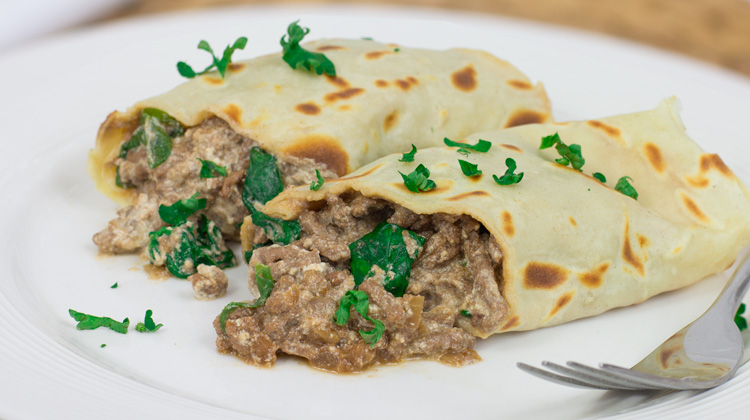 Serves: 2 | Prep time: | Cooking time:
337

Calories &

11.7

g fat per serving.
½ Large onion
Oil (to fry)
250g Minced Beef
½ tbsp Worcester Sauce
½ tbsp Tomato puree
1 Beef stock cube
Salt (to season)
300ml Milk
1 Egg
125g Plain flour
50g Baby spinach
125g Ricotta cheese
Directions
If you're tired of the usual lemon and sugar on your pancakes, then you must try my beef, spinach and ricotta pancake recipe this Shrove Tuesday.
Finely chop the onion and fry in a saucepan with a little oil for 5 minutes.
Add the minced beef and fry until browned.
Add the Worcester sauce, tomato puree and crumble in the stock cube. Season and mix together.
Pour in some boiling water until the contents of the pan are just covered. Stir and leave to simmer for 15 minutes (until the sauce thickens).
Meanwhile prepare the pancake batter. Whisk the milk, egg and flour together until smooth. Set aside.
When the beef has finished simmering, stir in the spinach until reduced in size.
Fold in the ricotta then remove from the heat and set aside whilst you cook the pancakes.
Heat some oil in a non-stick frying pan. Pour in just enough batter to cover the surface of the pan to make a nice thin pancake. Do this to make 2 pancakes.
Plate the pancakes up and place the filling in the middle of each pancake.
Roll the pancakes up and enjoy whilst still hot.
For more pancake inspiration, check out my summer fruit pancakes recipe.
Beef, Spinach and Ricotta Pancake Recipe video