Beef Stew Recipe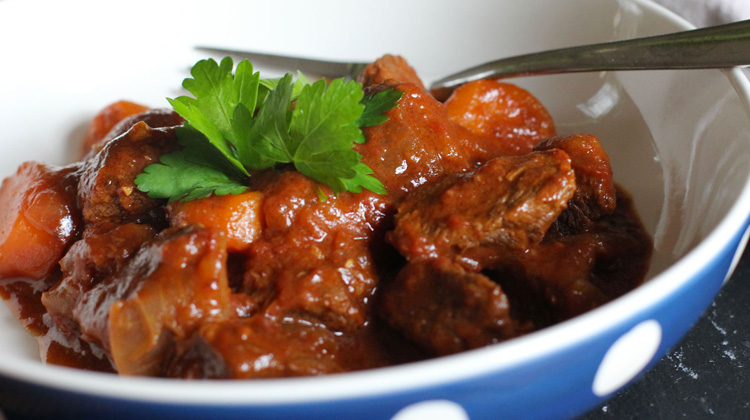 Serves: 3-4 | Prep time: | Cooking time:
311

Calories &

12.5

g fat per serving.
500g Stewing Beef
Flour (1 tbsp)
Paprika (1 tbsp)
x1 Large Onion
x2 Carrots
Garlic (x2 cloves)
x1 Tin Chopped Tomatoes
Beef stock cube (1)
Oil (to fry)
Directions
For possibly the easiest beef stew you'll ever make, check out this really simple recipe. And don't be afraid to throw anything else in there either!
Roughly chop the Onion and Carrots, and finely chop the Garlic, then add to a large pan.
If it's not done so already, chop the Stewing Beef into cubes then add to the pan as well, along with the Paprika and Flour.
Fry the ingredients until the Beef is browned, adding some Oil if needed.
Then add the Tinned Tomatoes and crumble the Stock Cube into the pan. Stir the contents and if needed, pour in some water so the Beef Stew is just covered.
Allow the Stew to simmer for 1 hour 30 minutes with the lid on.
Remove the lid and stir. If the sauce needs thickening, allow to stew with the lid off, or, mix some Flour with water (to make a paste) and stir into the pan.
To make life even easier, you can also make this beef stew in the slow cooker. Or if you want a stew that's a little more boozy, check out my Irish Stew Recipe that also has Guinness in.