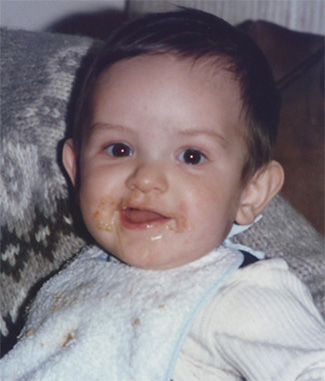 Hi, my name's Warren and I love food. Yep that's me a few decades ago ...so the obsession with food begins. Ask me when I'm happiest - it's when my belly is full! I create all my recipes and cooking videos from my kitchen in Nottingham, England.
So where did it all start? It took until my last year of university to finally give cooking from scratch my full attention. Amazed at how easy learning to cook things that usually come in a jar was, I spent more and more time in the kitchen. Before I knew it, cooking became my new hobby and to this day a passion of mine.
Why am I different? I'm not a professional chef, I'm purely someone who loves cooking simple recipes from scratch and enjoy sharing the benefits cooking from scratch can bring. As a UK food blogger and vlogger, I take the approach of making my recipes and cooking videos short and really easy to follow.
My YouTube channel made me the only UK YouTube Next Chef winner and I've been featured in print, on TV and radio. I received support from the Nottingham Trent University's business incubation unit – The Hive and I'm a Tastemade partner.
For business enquiries and to get in touch about working together, email warren@kameleon.co.uk
Press cuttings
Take a look at places I've featured in print, especially in and around Nottingham and the East Midlands. Go to my Press Cuttings Page.
Want to do stuff together?
Areas I am currently involved in (as well as being open to others) include:
Product review videos
Facebook (and other social) optimised cooking videos
Launch promotions
Product placement
Print and online media
Radio
TV
If you'd like to have a chat about the possibility of working together, I'd love to hear from you. Just drop me an email at warren@kameleon.co.uk
Video Production and Food Photography Services
I offer a range of video production services including 'Tasty' style cooking videos optimised for Facebook and Green screen filming. I also provide food photography and photography of products against a white background - perfect for e-commerce websites and print. Learn more about my services based in Nottingham and the East Midlands.
Product reviews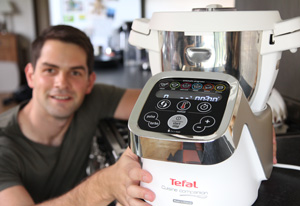 I have experience in filming product reviews with companies such as Tefal and Sage. This involves filming the presentation of your product, providing a review and editing the video. I also provide Youtube optimisation for each video review where I've had great success in getting reviews to the top of page one on the Youtube search results page. Check out all my video product reviews to see what you can expect.
Launch promo
Previous launch promo activity includes being involved in the launch of the film, The 100 Foot Journey (staring Helen Mirren) in association with Saga. Here I promoted a Saga competition to celebrate the release of the film, whilst also presenting a recipe in keeping with the theme of the film. See the feature on the Saga website.
Print and online media
I'm able to provide interviews and articles in the media as well as promoting my channel. I've been featured in various online and offline media including MSN, Forbes and The Nottingham Post.
Radio
I am a regular guest on BBC Radio Nottingham on the Saturday morning newspaper panel. I'm open to appear as a guest on radio to discuss food topics or promote my channel.
TV
I am a regular guest on the sofa of the 6:30 show on Notts TV - a local TV channel broadcast across the East Midlands.