Sweet and Sour Chicken Meal Prep Recipe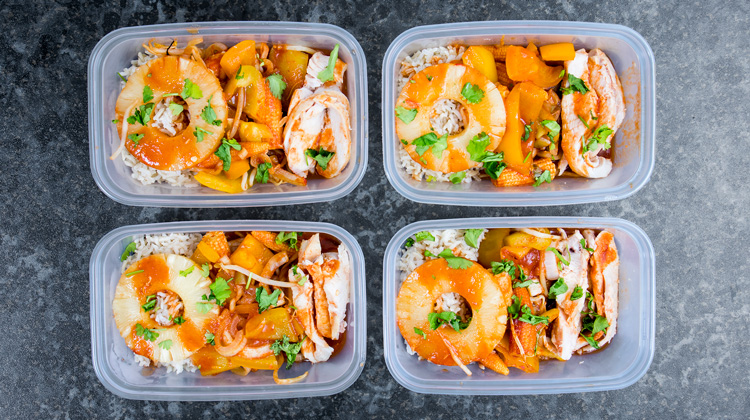 Serves: 4 | Prep time: | Cooking time:
293

Calories &

1.7

g fat per serving.
1 Onion
1 Pepper
2 Spring Onions
130g Baby corn
80g Beansprouts
3 tbsp Tomato puree
1 tbsp Sugar
2 tbsp Dark soy sauce
1 tsp Dijon mustard
Small tin pineapple rings (in juice)
2 Chicken breasts
120g Rice
Fresh Coriander
Directions
My super tasty sweet and sour chicken meal prep recipe is perfect when planning your lunches for the week ahead. Healthy, low calorie and made with ingredients available in the UK.
Pre-heat the oven to 180c/350f.
Slice the onion into half-moons and deseed the pepper, chopping it into chunks.
Chop the spring onions then put into an oven dish, along with the onion and pepper.
Add the baby corn, beansprouts, tomato puree, sugar, soy sauce and mustard.
Take 3 tbsp of juice from the tin of pineapples and add to the dish.
Mix everything until combined. Place the chicken in the dish along with 4 pineapple rings.
Cover with foil and cook for 25-35 minutes.
Meanwhile, prepare the rice according to the instructions on the packet.
After the cooking time, remove the sweet and sour chicken from the oven and check the chicken is cooked through. If it needs longer, replace the foil and return to the oven.
When everything is done, drain the rice from it's water and slice the chicken.
Take 4 food containers and split the sweet and sour vegetables, chicken, rice and pineapple between them.
Garnish with freshly chopped coriander. Store in the fridge for up to 4 days and enjoy.
For loads more meal prep ideas, check out my other recipes.
Sweet and Sour Chicken Meal Prep Recipe video