Chicken & Tomato Pasta Meal Prep Recipe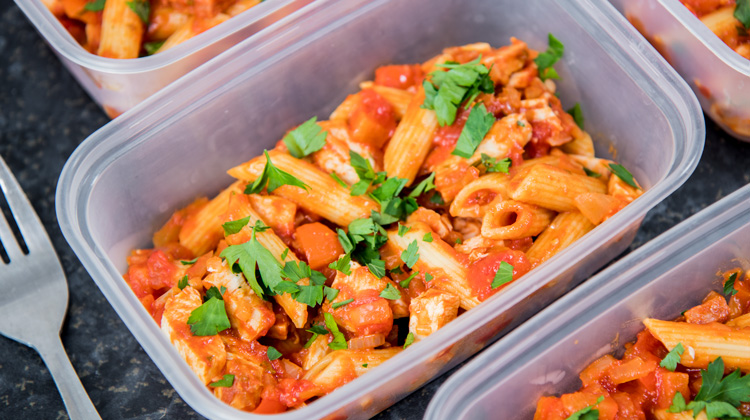 Serves: 4 | Prep time: | Cooking time:
321

Calories &

5.9

g fat per serving.
1 Onion
2 Garlic cloves
1 Pepper
50g Chorizo
Olive oil (to fry)
1 Tin chopped tomatoes
1 tbsp Oregano
¼ tsp Chilli powder
1 tbsp Tomato puree
1 Vegetable stock cube
Salt
150g Penne pasta
2 Chicken breasts
Fresh Parsley
Directions
My chicken and tomato pasta meal prep is perfect when preparing lunches for the week and brilliant for beginners. It's easy and healthy with a delicious pasta sauce.
Finely chop the onion and garlic. Chop the pepper and chorizo into 1cm square pieces.
Heat some oil in a saucepan and fry the onion, garlic, pepper and chorizo for 5 minutes.
Add the tinned tomatoes, oregano, chilli powder and tomato puree.
Crumble in the stock cube and season with salt. Stir everything together, top the mixture up with boiling water and simmer for 15 minutes until thickened.
Meanwhile, cook the pasta according the instructions on the packet and drain from the water.
Also grill the chicken until cooked through.
When the sauce is done, remove from the heat and stir in the pasta.
Check the chicken is cooked then chop into pieces. Stir into the tomato pasta.
Separate into 4 containers and garnish with freshly chopped parsley.
Store in the fridge for up to 4 days and enjoy cold or reheated.
Like to be organised with your lunches? Check out all my other meal prep recipes.
Chicken & Tomato Pasta Meal Prep Recipe video