Salmon Salad Meal Prep Recipe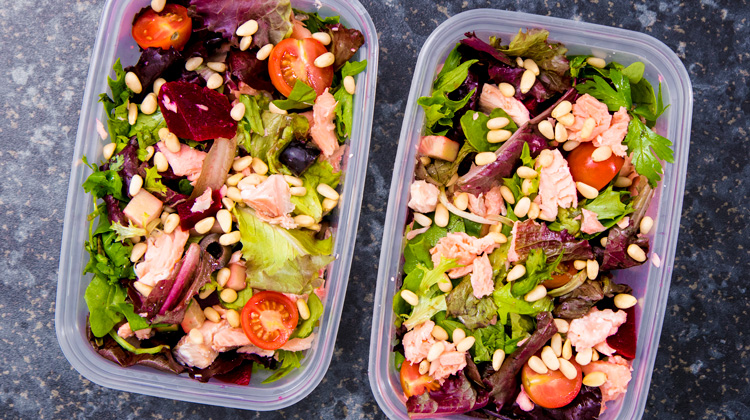 Serves: 2 | Prep time: | Cooking time:
210

Calories &

6.4

g fat per serving.
2 Salmon fillets
2 Spring onions
200g Mixed salad
6 Cherry tomatoes
10 Black olives
100g Cucumber
10g Capers
80g Pickled beetroot
Sprinkling of pine nuts
1 Lemon
Directions
My tasty salmon meal prep recipe is super tasty and perfect for beginners. It's also great for weight loss at only 210 calories per serving. This is enough for two in order for the salmon to stay fresh.
Preheat the oven to 180c / 350f.
Lay some aluminium foil on a baking tray. Chop the spring onions and place in the middle.
Put the salmon on top of the spring onions and place a lemon ring on top of each fillet.
Wrap the salmon up in a foil parcel and bake in the oven for 10 minutes.
Meanwhile, prepare the salad. Place the salad leaves in a bowl and chop the tomatoes, olives, cucumber, capers and beetroot. Then add to the bowl.
Mix everything together then split the salad between two tubs.
Once baked, take the salmon from the oven and leave to rest for 10 minutes. Then flake the fish over the tubs of salad using a folk.
Sprinkle pine nuts over each then cover and store in the fridge for up to 2 days.
Check out all my other meal prep recipes for more lunchtime inspiration.
Salmon Salad Meal Prep Recipe video