Chilli Beef Meal Prep Recipe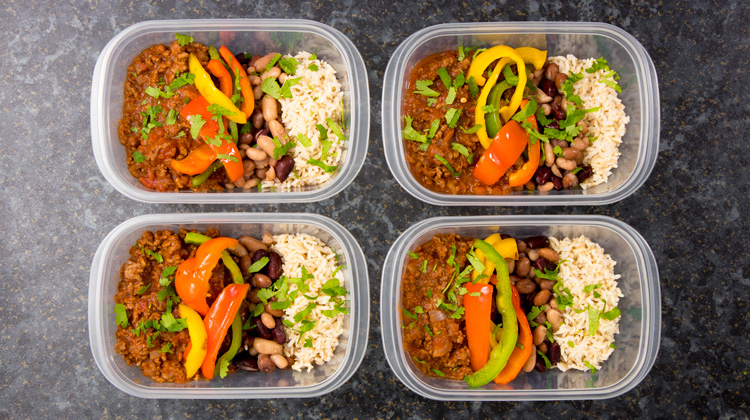 Serves: 4 | Prep time: | Cooking time:
293

Calories &

6.6

g fat per serving.
400g Minced beef
1 Onion
2 Garlic cloves
1 Tin chopped tomatoes (cooking with Napolina)
2 tbsp Tomato puree
1 Beef stock cube
Olive oil (to fry)
300g Tin of mixed beans
60g Rice
2 Peppers
1 tsp Cumin
1 tsp Chilli powder
1 tsp Cinnamon
1 tbsp Oregano
Fresh coriander
Directions
Here's a great meal prep idea using lean minced beef. My chilli beef meal prep recipe is just 293 calories per serving and great to prepare in advance for the week.
Finely chop the onion and garlic. Fry for 5 minutes in a large saucepan.
Add the cinnamon, cumin, chilli powder and beef. Fry until the beef has browned.
Add the tomatoes, oregano, tomato puree and crumble in the stock cube.
Stir then top the ingredients up with some boiling water. Season and leave to simmer for 20 minutes with the lid on.
Remove the lid and simmer for a further 10 minutes.
After 10 minutes, replace the lid and leave to rest.
Meanwhile, prepare the rice and mixed beans according to instructions on the packet.
Also, slice the peppers and fry for 5 minutes.
Take four food containers and split the chilli beef, rice, beans and peppers between them.
Garnish with freshly chopped coriander and store in the fridge for up to four days.
For loads more meal prep ideas perfect for beginners, check out all my other meal prep recipes.
Chilli Beef Meal Prep Recipe video