How to cook Lamb Shanks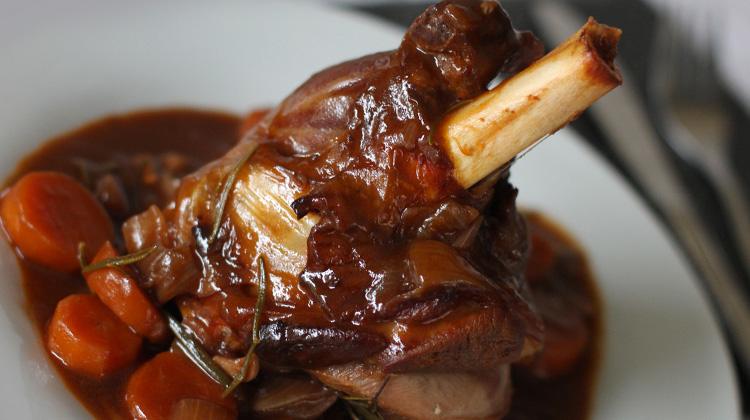 Serves: 2 | Prep time: | Cooking time:
613

Calories &

27

g fat per serving.
2 Lamb Shanks
2 tbsp Tomato Puree
2 Onions
2 Garlic Cloves
2 Carrots
2 Sprigs of Rosemary
1 Beef stock cube
1 tbsp Plain Flour
200ml Red Wine
Oil (to fry)
Directions
Bored of the usual leg of lamb on a Sunday afternoon? Check out my best lamb shank recipe, showing you how to cook it in the oven along with a lovely, glossy sauce as well.
To start, preheat your oven to 180 degrees.
Next, Peel and roughly chop the Onions and Garlic, then set them aside.
Peel and roughly chop the Carrots then add to a large casserole along with the Onion, Garlic and Lamb Shanks with a little Oil over a high heat.
Stir the contents of the casserole for about 10 minutes, allowing the vegetables to fry and the Lamb to seal and begin to turn brown.
Once the Lamb shanks have browned, carefully remove them from the casserole and put them aside.
With the Lamb removed, throw in the Plain Flour, Tomato Puree, then crumble in the Beef Stock Cube into the pan. Briefly stir the contents of the casserole then pour in the Red Wine and the leaves of the 2 sprigs of Rosemary.
Give everything in the pan a quick stir then return the Shanks back to the pan. Top the contents up with a little water then give everything a good stir.
Bring the pan up to simmering point then stick the lid on the casserole. Place in the oven for between 1 and a half to 2 hours, making sure you keep an eye on it whilst it's cooking.
After the cooking time, remove from the oven, remove the shanks from the casserole then wrap them in foil.
Thicken up the sauce in the pan on the hob by briefly stirring it over a high heat until done.
When happy, remove the sauce from the hob, take the Lamb Shanks out of the foil then serve up on a plate.
Love roast dinners? See how to roast the perfect chicken.
How to cook Lamb Shanks video