Chipotle Chicken Meal Prep Recipe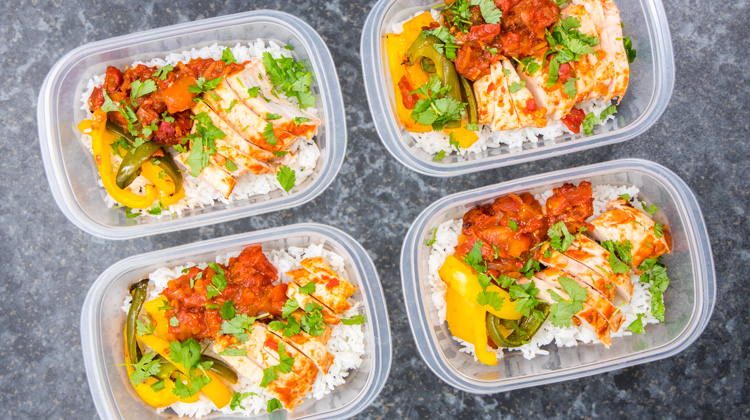 Serves: 4 | Prep time: | Cooking time:
418

Calories &

3

g fat per serving.
1 Onion
2 Garlic cloves
Olive oil (to fry)
1 tbsp Cider vinegar
½ - 1 tbsp Chipotle paste
1 Tin chopped tomatoes
3 Chicken breasts
2 Sliced peppers
250g Cooked rice
Handful fresh coriander
Directions
Here's a great meal prep idea for weight loss and muscle gain. My chipotle chicken recipe is perfect for lunches for the week ahead PLUS it's easy to prepare.
Pre-heat the oven to 180c/350f.
Finely slice the onion and garlic.
Heat some oil in a saucepan and add the onion, garlic, cider vinegar and chipotle paste.
Fry for 5 minutes.
Add the chopped tomatoes and season. Stir together and leave to simmer for 10 minutes.
Meanwhile, add the chicken and peppers to an oven dish.
After 10 minutes, pour the tomato chipotle sauce over the chicken.
Cook in the oven for 30-40 minutes, stirring the peppers half way through cooking.
When the chicken is cooked through, remove from the oven.
Separate the sauce from the chicken and slice the chicken into strips.
Take 4 food-safe containers and split the cooked rice between them.
Then split the chicken, peppers and sauce between them.
Garnish with freshly chopped coriander and store in the fridge for up to 4 days.
For loads more meal prep ideas, check out my other meal prep recipes.
Chipotle Chicken Meal Prep Recipe video