Prime Rib Recipe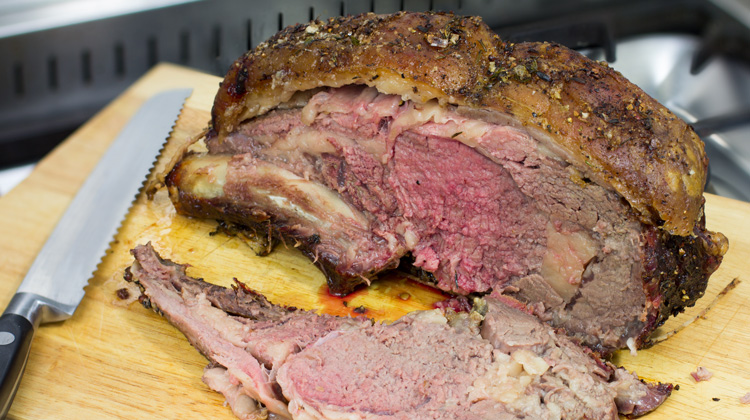 Serves: 4-12 | Prep time: | Cooking time:
289

Calories &

9.6

g fat per serving.
1 Prime rib roast joint
Kosher or rock salt
Roughly ground peppercorns
6 Garlic cloves
Fresh rosemary or thyme
Directions
Prime rib is a delicious cut of beef, perfect to enjoy over the holidays. However, it's an expensive joint, so you don't want to get it wrong. Here's my quick prime rib recipe, showing you how to cook it in the oven at home.
Rest the prime rib on it's bones (fat side up) in a roasting tin.
Mince the garlic cloves and rub on all sides of the roasting joint. Along with generous amounts of salt, ground peppercorns and chopped rosemary or thyme.
Cover and leave in the fridge overnight.
Preheat the oven to 230c/450f and roast the prime rib for 20 minutes.
Bring the temperate down to 160c/325f and roast for 35-45 minutes per KG/15-20 minutes per lbs.
Towards the end of the cooking time, check the temperature in the thickest part of the joint using a thermometer. Approximately 57c/135f for medium rare and 65c/150f for medium.
When cooked to your liking, remove the joint and cover with foil. Leave to rest for 30 minutes.
Carve off ribeye steaks around the bones and enjoy with your favourite roasted vegetables.
Love roast dinners? Read my guide on how to roast a chicken.