Chicken Sausage Casserole Recipe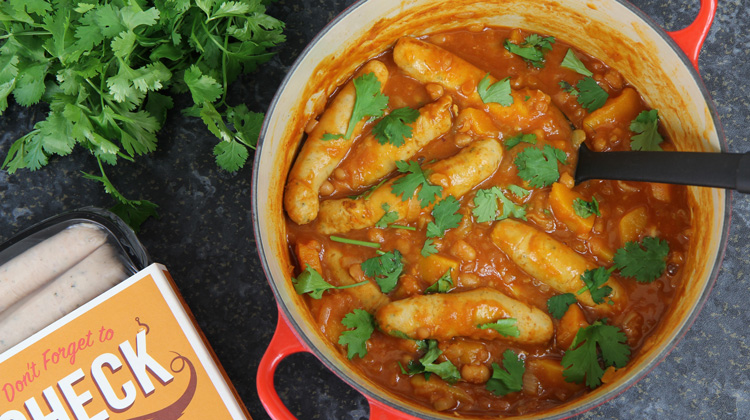 Serves: 4 | Prep time: | Cooking time:
260

Calories &

3.1

g fat per serving.
10 Zesty chicken Heck sausages
1 Onion
Oil (to fry)
½ Butternut squash
1 Can BBQ baked beans
1 Chicken stock cube
1 tbsp Paprika
Seasoning
Handful fresh coriander
Directions
I'm using Heck Sausages to help them spread the word about making sure you "check" yourselves this Movember guys! My chicken sausage casserole recipe can be made on the stove, in the oven or in a slow cooker.
Peel the onion and slice into half-moons. Heat some oil in a casserole and fry for 5 minutes.
Add the sausages to the casserole and fry for a further 5-10 minutes, until they've just started to brown.
Peel and chop the butternut squash and add to the casserole, along with the BBQ beans and paprika.
Dissolve the stock cube in a mug of boiling water and add to the casserole along with some seasoning.
Leave to simmer gently with the lid on for 1 hour.
When thickened, check for seasoning then serve sprinkled with freshly chopped coriander.
Check out my other stew recipes for more winter warmers.
Chicken Sausage Casserole Recipe video