Turkey Burger Recipe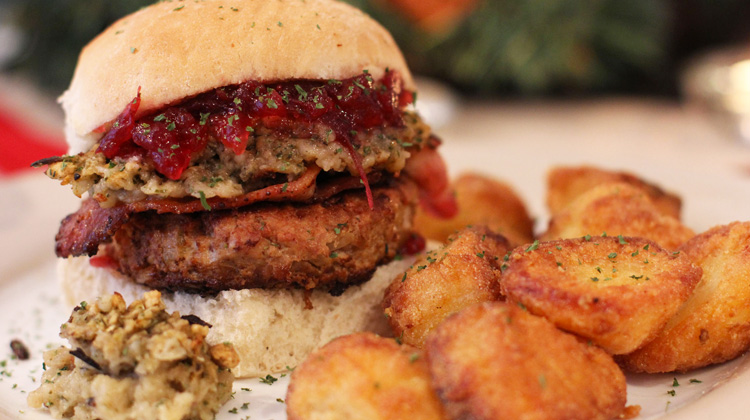 Serves: 4 | Prep time: | Cooking time:
645

Calories &

18

g fat per serving.
Bread Buns (x4)
Ready-mix Stuffing
Bacon (x4 rashers)
500g Turkey Mince
Chilli Powder (1/2 tsp)
Egg (x1)
Onion (x1)
Worcester Sauce (x1 tbsp)
Cranberry Sauce
Potatoes (to serve)
Olive Oil (to roast)
Directions
This is no ordinary Turkey Burger Recipe, it's Christmas Dinner in a bun! Crammed full of the usual Christmas Dinner essentials, this Burger Recipe tastes sublime! Best of all, it contains very little fat.
Peal, chop then boil your Potatoes for 5 minutes. Drain, then put in the oven for 50 minutes on 200c. See my Roast Potatoes Recipe for directions.
Then prepare the ready-mix Stuffing and put in the oven for the time specified on the packet.
Prepare the Turkey Burgers by putting the Minced Turkey, a finely chopped Onion, Egg, Chilli Powder and Worcester Sauce into a mixing bowl - combine everything thoroughly with your hands.
Portion out the mixture into 4 and make into Burger shapes between the palms of your hands. Leave in the fridge to set whilst we prepare everything else.
Butter up 4 Buns with lashings of Cranberry Sauce.
10 minutes before the Potatoes and Stuffing are ready, fry or grill the Turkey Burgers (make sure there is no pink left) inside. Then fry or grill the Bacon.
When the Stuffing is ready, layer up each Bun with a Turkey Burger, Bacon and Stuffing.
Serve with Roast Potatoes then serve.
Check out the cooking video for this recipe below...
Turkey Burger Recipe video