Christmas Cookies Recipe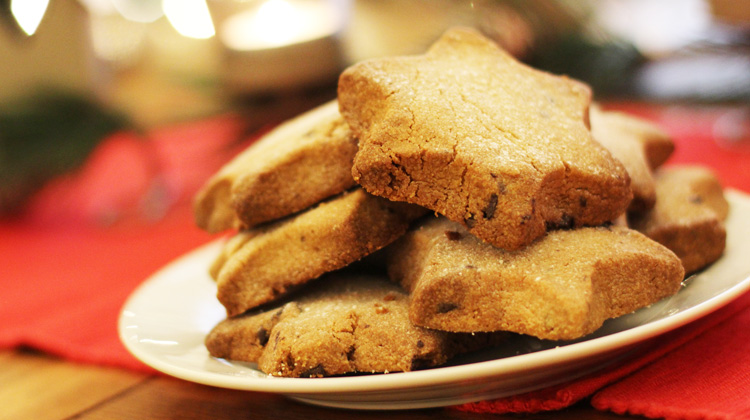 Serves: 10 | Prep time: | Cooking time:
287

Calories &

17.7

g fat per serving.
200g Unsalted Butter
100g Caster Sugar
250g Plain Flour
10g Dark Chocolate
1 Egg Yolk
Icing Sugar (to dust)
Directions
If you're visiting friends and family this Christmas, it's always nice to take cookies with you. Learn how to make Christmas cookies at home with my easy recipe.
Start by preheating your oven to 180c. Then cube up the Butter and cream it together with the Caster Sugar in a mixing bowl.
Separate the Yolk from the Egg and briefly mix the Yolk it into the Butter and Sugar.
Chop the Dark Chocolate into small pieces and add to the mixing bowl, as well as sieving in the Plain flour.
Thoroughly mix all the ingredients in the bowl together to make the cookie dough, then knead briefly with your hands.
Cover a baking tray with some greaseproof or parchment paper. Then roll out 10 balls from the cookie dough.
Flatten the balls and press out the cookie shapes using a floured cookie cutter. Or leave the cookies as circle shapes. Then place them on the baking tray.
Place in the oven for between 25 and 35 minutes (depending on how thick the cookies are), making sure they're cooked until golden brown.
Finally, leave to cool and dust with the Icing Sugar, then they're ready to serve.
Be sure to check out my other Christmas recipes here.
Christmas Cookies Recipe video