Sweet & Sour Chicken BBQ Foil Packets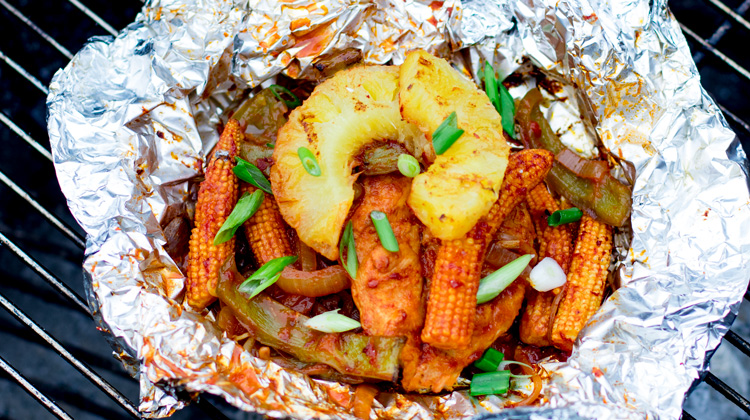 Serves: 1 | Prep time: | Cooking time:
398

Calories &

7.5

g fat per serving.
½ Onion
½ Green pepper
40g Bean sprouts
80g Baby corn
1 Spring onion
½ tbsp Sugar
1 tbsp Dark soy sauce
2 tbsp Tomato puree
½ tsp Mustard
2 tbsp Pineapple juice
Drizzle Olive oil
Salt & Pepper (to season)
1 Chicken breast
1 Pineapple ring
Directions
My sweet and sour chicken BBQ foil packets are a great tasting grill recipe, plus, they're easy to prepare. Packed full of tasty vegetables and juicy flavours.
Slice the onion and pepper, and chop the spring onion. Then add to a bowl.
Also add the bean sprouts, baby corn, sugar, soy, tomato puree, mustard and pineapple juice.
Drizzle over some olive oil and season with salt and pepper.
Thoroughly mix together until all the veg is covered in sauce.
Lay out a large sheet of aluminum foil and pour half the veg into the centre.
Place the chicken on top then pour the rest of the veg over the chicken. Top with the pineapple ring.
Close up the foil parcel ensuring it's sealed at the ends.
Place the foil parcels on the grill of a hot BBQ and cook with the lid on for 25-35 minutes.
Remove from the grill and open the parcels. Check the chicken is cooked through and enjoy.
TIP! Grill the chicken and pineapple for a couple of minutes for even more flavour.
Sweet & Sour Chicken BBQ Foil Packets video