Nachos Recipe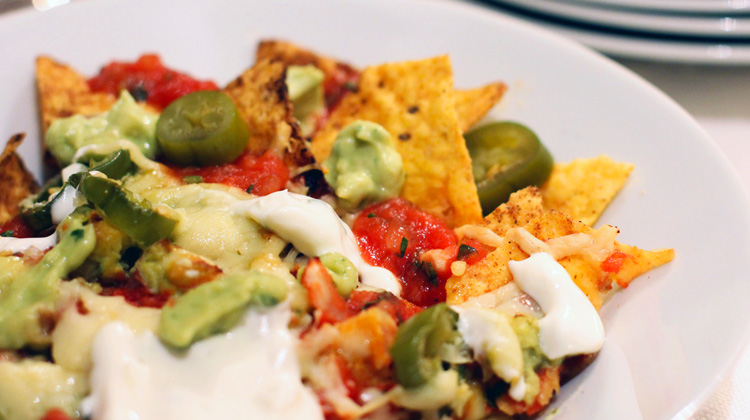 Serves: 4 | Prep time: | Cooking time:
380

Calories &

25

g fat per serving.
Tortilla Chips (large bag)
x5-10 tbsp of Salsa
x5 tbsp of Guacamole
x5 tbsp of Sour Cream
x2 handfuls of grated Cheese
10-20 of Jalapeños
Directions
If you're looking for the perfect party food, Nachos come up trumps every time. What's more, they're so easy to make. Check out my Nachos recipe and impress your guests!
Evenly spread the Tortilla Chips into an oven dish.
Spread the Salsa over the top then dollop on the Guacamole and Jalapeños.
Sprinkle over the grated Cheese then put in a pre-heated oven on 180c for about 15 minutes - Keep and eye on the Nachos to make sure they're not burning.
When the Cheese is nice and melted, take them out the oven.
Dollop over the Sour Cream then they're ready to serve.
Check out my Guacamole Recipe and Salsa Recipe which go great with these Nachos.