Zucchini Bread Recipe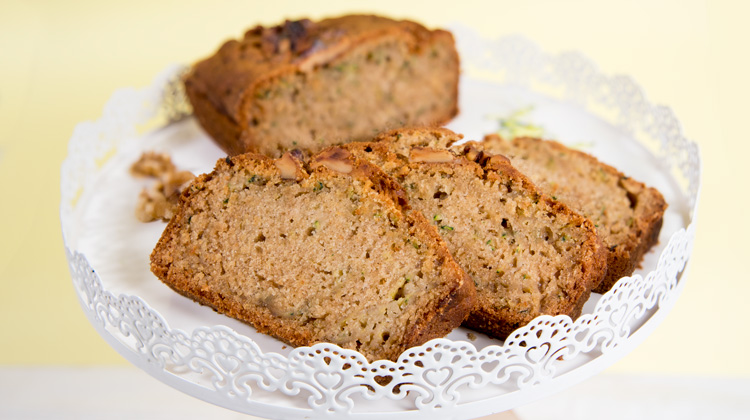 Serves: 10 | Prep time: | Cooking time:
339

Calories &

21

g fat per serving.
220g Plain flour
Pinch of salt
½ tsp Bicarbonate of soda
½ tsp Baking powder
½ tsp Cinnamon
60ml Milk
1 Egg
200ml Vegetable oil
170g Caster sugar
1 tsp Vanilla extract
1 Zucchini
20g Walnuts
Directions
Here's something a bit different! My easy zucchini bread recipe is lovely and moist and super tasty. If you love banana bread and baking, you're sure to love this too.
Preheat the oven to 180c/350f.
Take a mixing bowl and add the flour, salt, bicarbonate of soda, baking powder, cinnamon and caster sugar. Stir to combine.
In a separate bowl, whisk together the milk, egg, oil and vanilla extract.
Pour the wet mix into the dry ingredients and mix together.
Grate the zucchini into the mixture then stir it in.
Pour into a loaf tin lined with greaseproof or parchment paper.
Lay the walnuts on top of the loaf, along the centre.
Bake in the oven for 45-55 minutes.
Remove from the oven and check the zucchini bread is cooked by poking a knife in.
Leave to cool then serve.
Love this recipe? Be sure to try my banana bread too.
Zucchini Bread Recipe video