Mincemeat Recipe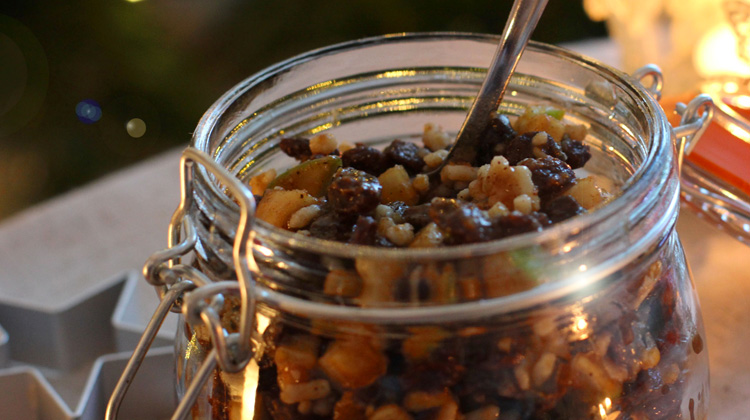 Serves: 15 | Prep time: | Cooking time:
190

Calories &

7

g fat per serving.
x1 Bramley Apple
Shredded Suet (100g)
400g Mixed Fruit (Raisins, Sultanas, Currants)
Dark Brown Sugar (150g)
x1 Orange
Grated Almonds (25g)
Ground Mixed Spice (x2 tsp)
Ground Cinnamon (1/2 tsp)
Ground Nutmeg (1/2 tsp)
Brandy (3 tbsp)
Directions
You may think Mincemeat is hard to make, but it actually couldn't be easier. It really is a case of a little bit of chopping then mixing everything together. Make your Mince Pies stand out from the crowd this year with this Mincemeat Recipe.
Firstly, finely chop the Bramley Apple (no need to peel), then add to a large mixing bowl.
Then add the Mixed Fruit, Suet, Sugar, Almonds, Ground Mixed Spice, Ground Cinnamon and Ground Nutmeg.
Into the bowl, grate in the zest of the orange, then squeeze in the juices from the orange as well.
Add 3 tablespoons of Brandy to the mixture (5-6 if you like it more boozy)!
Then with your hands, thoroughly mix everything together, then leave to rest for 10 hours in the fridge.
Make sure you stir the mixture regularly, then it's ready to use in any Mince Pie Recipe
Check out the cooking video for this recipe below. Merry Christmas!