Eton Mess Cheesecake Dessert Kabobs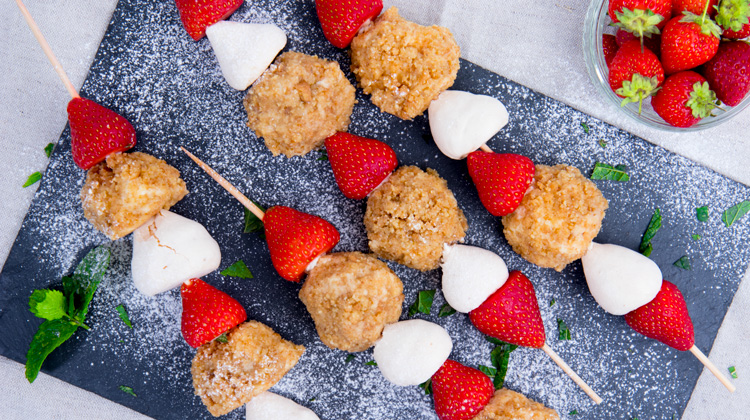 Serves: 8 | Prep time: | Cooking time:
302

Calories &

20

g fat per serving.
1 Egg white
50g Caster sugar
1 ½ Gelatine leaves
90ml Double/heavy cream
200g Cream cheese
40g Icing sugar
½ tsp Vanilla extract
11 (165g) Digestive biscuits
90g Butter
24 Strawberries
Directions
My Eton mess dessert kabobs are a great BBQ dessert idea, guaranteed to impress. This recipe includes the classic ingredients of this dessert, but on a stick!
Firstly, make the meringues. Whip the egg white until fluffy then gradually add the caster sugar whilst whisking. When stiff peaks form, add the mixture to a piping bag.
Pipe out lots of mini meringues onto a lined baking tray and bake for 50 minutes on 130c / 270f.
Meanwhile, soak the gelatine in water for 5 minutes then heat the cream up in a saucepan (don't let it boil).
Remove any excess water from the gelatine then stir into the cream. Leave to cool.
Add the cream cheese, icing sugar and vanilla extract to a mixing bowl. Mix until smooth.
Stir in the gelatinous cream then leave to set in the fridge for 20 minutes.
5 minutes before the cheesecake is ready, smash the digestive biscuits into crumb size pieces.
Melt the butter in a saucepan and stir in the biscuits.
For each cheesecake ball (2 per kabob), spoon out some cheesecake mix and cover in the buttery biscuit crumbs.
Place on greaseproof or parchment paper and leave to set in the fridge for at least 1 hour.
When the meringues are baked, remove from the oven.
Assemble the kabobs with 3 strawberries, 2 pieces of meringue and 2 cheesecake balls.
Leave in the fridge until they're ready to come out and eat within 5-10 minutes of coming from the fridge.
Eton Mess Cheesecake Dessert Kabobs video