Baked Mac and Cheese Recipe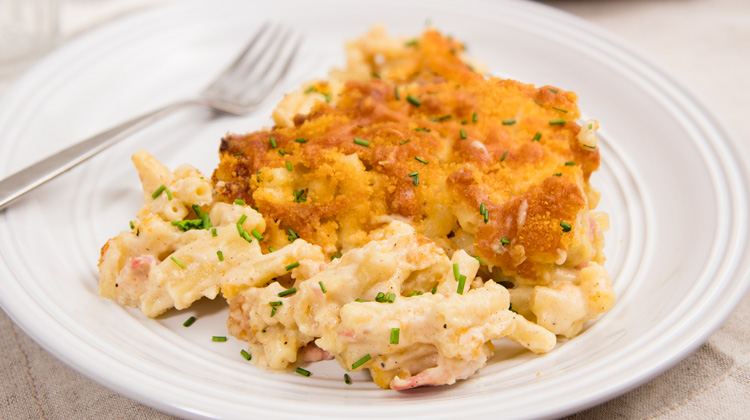 Serves: 6 | Prep time: | Cooking time:
509

Calories &

25

g fat per serving.
50g Butter
50 Plain flour
650ml Semi-skimmed milk
250g Macaroni pasta
220g Grated cheddar cheese
1 tsp Nutmeg
1 tbsp Dijon mustard
Olive oil
4 Rashers of bacon
30g Bread crumbs
Directions
This is the ultimate dish, perfect for Thanksgiving. My baked mac and cheese recipe has delicious fillings like bacon and bread crumbs and it's made with no egg.
Place a saucepan over a low heat on the stove. Add the butter and leave to melt.
Add the flour and stir to make a roux.
Pour in the milk. Remaining over a low heat stir continuously (approx. 10 minutes) until the sauce thickens.
Meanwhile, cook the macaroni pasta according to the instructions on the packet.
When the sauce has thickened, add half the cheese, nutmeg and mustard. Stir until the cheese has melted. Then set aside.
Chop the bacon into chunks and fry until it just starts to turn crisp.
Stir the bacon into the sauce.
Add the cooked pasta (drained from it's water) to an oven dish and mix in the sauce.
Top with the rest of the cheese, sprinkle with breadcrumbs and drizzle with oil.
Bake in an oven preheated to 180c/350f for 25-35 minutes.
When the topping is golden and crisp, serve straight away and enjoy.
Try my mac and cheese bites recipe. All the same delicious flavours, but bitesize!
Baked Mac and Cheese Recipe video