Boozy Chocolate Covered Strawberries Recipe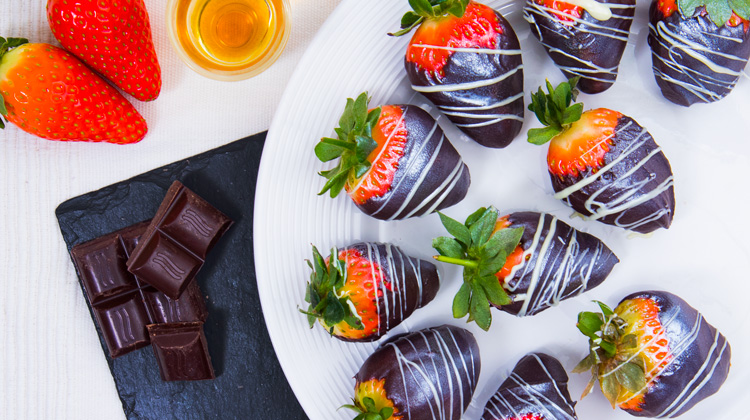 Serves: 10 | Prep time: | Cooking time:
78

Calories &

3.9

g fat per serving.
120g Dark Chocolate
White chocolate (for drizzling)
10 Strawberries
25ml Brandy (or your favourite liquor)
1 tbsp Golden syrup
Edible spray glitter
Directions
My tasty chocolate covered strawberries are made with brandy liquor and covered in glitter - Perfect for Valentine's Day. They're quick and easy to prepare and taste delicious.
Melt the dark chocolate on the stove or in the microwave.
Then add the brandy and golden syrup. Mix until combined.
Dip the strawberries in the chocolate until covered then place on a sheet of greaseproof or parchment paper.
Melt the white chocolate and drizzle it over the strawberries. Leave to chill for 10-15 minutes.
Spray the chocolate covered strawberries with edible glitter and enjoy.
Cooking steak for Valentine's Day? Serve it with my delicious peppercorn sauce.
Boozy Chocolate Covered Strawberries Recipe video