Sausage Bread Recipe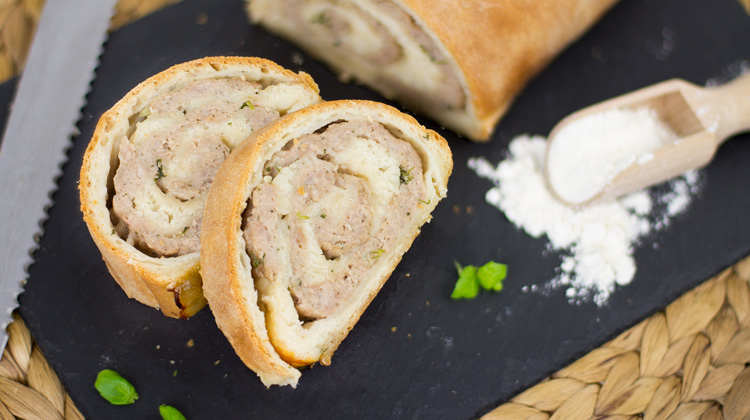 Serves: 10 | Prep time: | Cooking time:
201

Calories &

7.4

g fat per serving.
250g Strong white bread flour
3g Yeast
1 tsp Salt
1 tsp Caster Sugar
½ tbsp Butter
400g Sausage meat
Handful fresh parsley
2 Garlic cloves
½ tbsp Worcester Sauce
Directions
My Sausage Bread recipe is great for sharing and bursting with flavour. Great if you love baking.
Add the flour, yeast, salt and caster sugar to a mixing bowl. Briefly mix together.
Crumble in the butter using your fingertips.
When all the butter is mixed in, pour in 150ml of lukewarm water. Mix until everything begins to clump together then pour onto a clean, floured work surface.
Knead the dough for 10 minutes. Then leave to proof in a covered bowl for 1 hour.
Meanwhile prepare the sausage filling. Add the sausage meat, garlic, chopped parsley and Worcestershire sauce into a bowl.
Mix the filling until combined then set aside until the dough has finished proving.
Roll the dough into a ½cm thick rectangle then place on a baking tray lined with greaseproof or parchment paper.
Spread the sausage filling all over the dough then roll the bread up. Tightly press the last piece of dough down and pinch the ends.
Bake on the tray in an oven preheated to 180c/350f for 25-30 minutes.
When golden and cooked on all sides, remove from the oven and leave to cool.
Then slice the loaf into 10. Serve and enjoy.
TIP! Try this hot by cooking slices of sausage bread under the grill.
Sausage Bread Recipe video