Profiteroles Recipe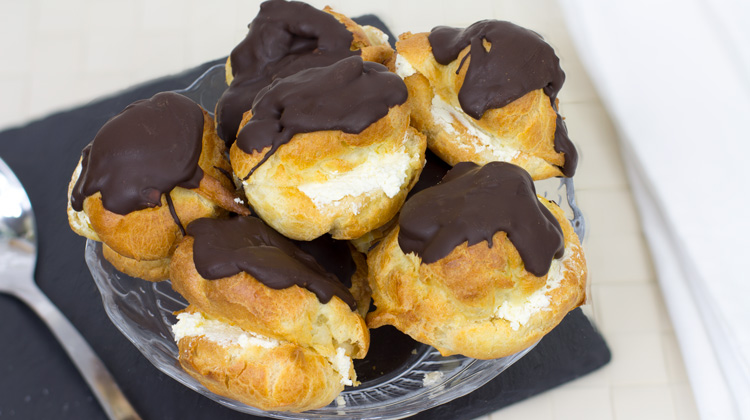 Serves: 10 | Prep time: | Cooking time:
220

Calories &

18.4

g fat per serving.
Directions
If you want to impress with a snazzy dessert, then try my profiteroles recipe. They're topped with chocolate and have a whipped cream filling.
Preheat the oven to 200c/390f.
Place a saucepan over a low heat on the stove. Add 100ml of boiling water and melt in the butter.
Add the flour and vigorously mix together to form a ball of dough. Leave to cool for 5 minutes.
Crack in one egg at a time, beating them into the ball of dough.
When you have a relatively stiff mixture, separate it into 10 balls on a baking tray lined with greaseproof/parchment paper.
Bake in the oven for 20 minutes.
When risen and golden, remove from the oven and leave to cool.
Meanwhile, whip the cream until stiff and melt the chocolate in a saucepan or in the microwave.
When the profiteroles are cool, slice each in half and stuff with whipped cream.
Dip the profiteroles in the melted chocolate then leave to set in the fridge. Then serve and enjoy.
Tip! For more profiteroles, simply double up the mixture.
Profiteroles Recipe video