Jalapeno Poppers Recipe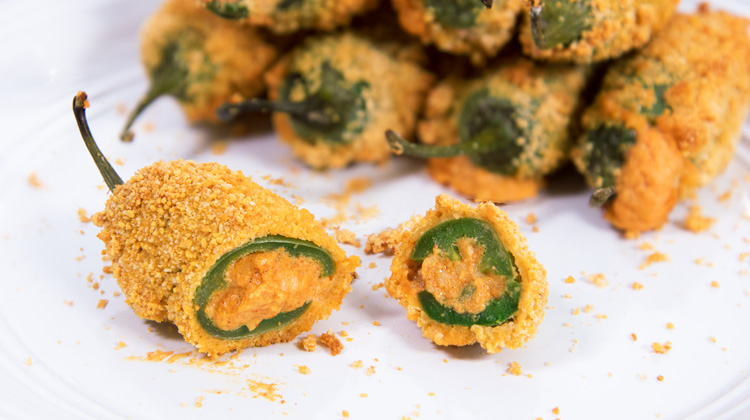 Serves: 10 | Prep time: | Cooking time:
131

Calories &

6.5

g fat per serving.
100g Grated cheddar cheese
150g Cream cheese
1 tbsp Paprika
1 tsp Salt
10 Green jalapeno peppers
2 Eggs
25g Plain flour
100g Golden Breadcrumbs
Spray oil
Directions
May your Super Bowl food wishes come true with my vegetarian jalapeno poppers recipe. These are baked and stuffed with tasty cheese.
Preheat the oven to 180c/350f.
Add the grated cheese, cream cheese, paprika and salt into a bowl. Mix until combined.
Slice the jalapeno peppers open and hollow out the seeds and cores.
Stuff the peppers with the cheese mixture.
Beat the eggs in a bowl. Then pour the flour into a separate bowl and the breadcrumbs into another bowl.
Dip each jalapeno popper in the flour, then egg, then breadcrumbs.
Place on a baking tray lined with greaseproof or parchment paper.
Spray the jalapeno poppers with oil.
Bake in the oven for 20-25 minutes until golden and crisp.
Remove from the oven, leave to cool for 10 minutes then enjoy.
For more tasty Super Bowl recipes, check out how to make homemade guacamole.
Jalapeno Poppers Recipe video