Cupcake Recipe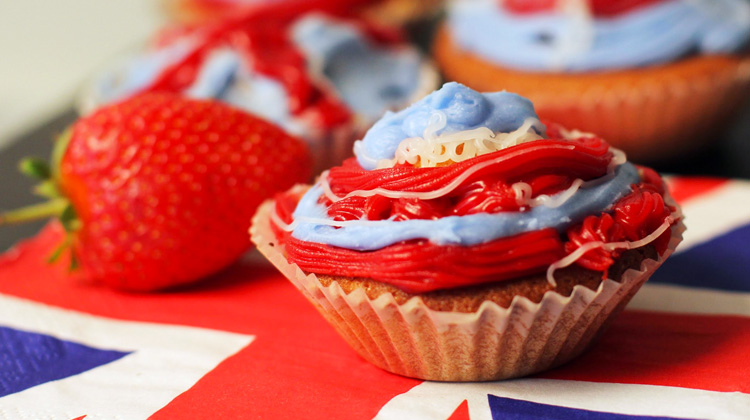 Serves: 10 | Prep time: | Cooking time:
203

Calories &

11.6

g fat per serving.
Caster Sugar (125g)
Unsalted Butter (125g)
Self-raising Flour (125g)
Baking Powder 1/2 tsp
x2 Eggs
Strawberries (handfull)
Tubes of Icing
10 Cupcake Cases
Directions
Everyone's eating cupcakes at the moment, so if you're celebrating the Diamond Jubilee and need some finger food for your guests, try this classic English Cupcake Recipe. These are really simple to make and are stuffed with chunky Strawberries. Check out the recipe video at the bottom of the page.
Sieve the Self Raising Flour into a mixing bowl then add the Caster Sugar and Baking Powder.
Cube up the Butter and add to the bowl, as well as breaking the 2 Eggs into the bowl as well.
Thoroughly mix the contents together until you have a nice smooth cake mixture with no lumps.
Put 10 Cupcake Cases into a cake tin and spoon out the mixture into the cases. We found an ice-cream scoop to be the perfect size to portion the mixture out.
Place in the oven on 180c for 25 minutes, or, until the Cupcakes are golden and have risen, then place on a cooling rack.
Meanwhile, mash up the Strawberries, then, remove (and save) the core of the cupcakes (see video below), an apple corer is perfect for this.
Stuff each Cupcake with the Strawberries then replace the cores.
Then Ice the Cupcakes and enjoy!
Enjoy these other recipes in our Diamond Jubilee series, Scone Recipe and Sausage Roll Recipe that are also perfect for celebrating the Jubilee with.