Tiramisu Ice Cream Recipe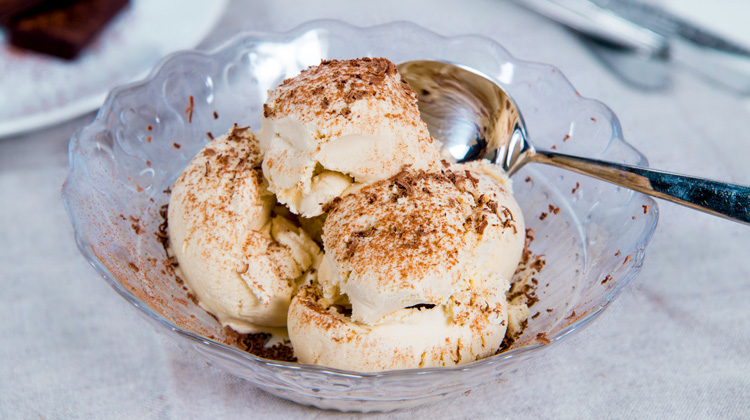 Serves: 6 | Prep time: | Cooking time:
451

Calories &

35

g fat per serving.
4 Egg yolks
125g Caster sugar
300ml Double cream
120ml Whole milk
3 tbsp Brandy
4 tbsp Espresso coffee
175g Mascarpone cheese
Cocoa powder
Grated dark chocolate
Directions
My tasty homemade tiramisu ice cream recipe is super easy to make at home. It contains all the original ingredients of the traditional tiramisu dessert.
Place a saucepan over a low heat on the stove and pour in the milk and cream. Stir and bring up to a gentle simmer.
Meanwhile, add the egg yolks and 75g of caster sugar to a mixing bowl. Whisk together until thick and pale in colour.
When the milk and cream are simmering, add the egg yolk and caster sugar. Stir continuously for 15 minutes to allow the mixture to thicken. Remain over a low heat so you don't scramble the egg.
Once thickened, transfer to a heatproof dish and leave to cool completely in the fridge.
Meanwhile, add the mascarpone cheese, coffee, brandy and 50g of caster sugar to a mixing bowl. Whisk until smooth.
When the ice cream base has cooled, pour into the bowl of an ice cream maker along with the mascarpone flavouring.
Place the bowl in the machine and leave to churn until you're happy with the consistency of the ice cream.
Serve sprinkled with cocoa powder and grated dark chocolate and enjoy.
Love ice cream? Check out all my other ice cream recipes.
Tiramisu Ice Cream Recipe video