Spicy Butternut Squash Soup Recipe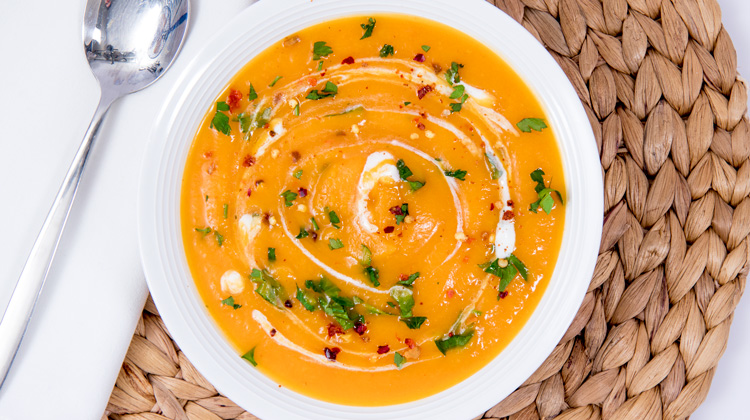 Serves: 4 | Prep time: | Cooking time:
64

Calories &

1.4

g fat per serving.
1 Onion
2 Cloves of Garlic
1 Butternut squash
1 Carrot
1 Vegetable stock cube
Oil (to fry)
Parsley (to garnish)
1 Red chilli
Directions
My spicy butternut squash soup recipe is easy to make and is also vegan friendly. It's a deliciously tasty winter warmer spiced with fresh chilli.
Roughly chop the onion, garlic and chilli.
Heat some oil in a large saucepan and fry the onion, garlic and chilli for 5 minutes.
Peel, chop and deseed the butternut squash then peel and chop the carrot.
Add the vegetables to the saucepan along with some seasoning and crumble in the stock cube.
Top up the contents of the pan with water until just covered. Leave to simmer for 15 minutes.
Then separate the vegetables from the liquid, setting the liquid aside.
Use a hand or regular blender to blitz the vegetables until smooth. Add back in as much liquid as you like until you're happy with the thickness of the soup.
Serve straight away or later reheated, garnished with freshly chopped parsley.
Love soup? Check out my really easy tomato soup recipe, made with Napolina plum tomatoes.
Spicy Butternut Squash Soup Recipe video