Pizza Ice Cream Recipe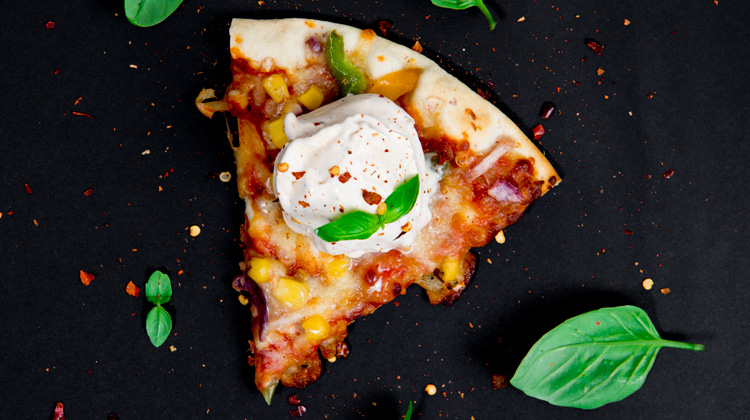 Serves: 6 | Prep time: | Cooking time:
372

Calories &

29

g fat per serving.
4 Egg yolks
300ml Double cream
120ml Whole milk
125g Caster sugar
350g Tomatoes
Handful of Basil
1 tbsp Oregano
2 Garlic cloves
Pinch of salt
Directions
Here is my take on the pizza ice cream recipe inspired by Little Baby's Ice Cream in Philadelphia. This is flavoured with the original taste of pizza with a traditional custard base.
In a bowl add the egg yolks and 75g of caster sugar. Whisk until thick and pale in colour then set aside.
Place a saucepan over a low heat on the stove. Add the milk and cream, stir and bring up to a gentle simmer.
Add the egg yolk mixture to the pan. Stir over a low heat for 10-15 minutes until thickened and the custard sticks to the back of a spoon.
Pour into a heatproof dish and leave to chill in the fridge.
Meanwhile, blend the tomatoes, basil, oregano, garlic and salt.
Pour into a clean saucepan with the remaining 50g of caster sugar. Stir and reduce down over a low heat for 10 minutes. Then pour into a heatproof dish and cool in the fridge.
When both mixtures are completely cool, add to the bowl of an ice cream maker.
Leave to churn until the desired hardness of your ice cream is reached.
Serve straight away or store in the freezer for up to a week.
Like pizza and like ice cream, but maybe not together!? Check out all my pizza recipes and ice cream recipes.
Pizza Ice Cream Recipe video